I sell wonderful, high quality, cotton provence fabrics and provence tableclothes. I am located in Germany. Now I provide you with the opportunity to buy the actual french country fabrics in the United States, Canada and Australia. Already many overseas customers are buying regular. 320 different colorful cotton fabrics are all made in France. All fabrics are in stock. When you order via PayPal you get a manual PayPal email from us a few minutes later, when the total ordered quantity is in stock. (in 98% of the orders the ordered quantity is in stock)
The wonderful colors of the Provence inspired van Gogh and Cézanne: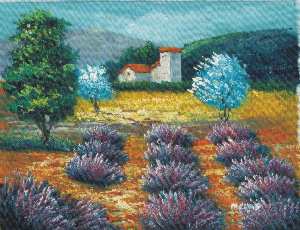 "This great sun, which creates such a marvelous light."
Paul Cézanne
(Aix-en-Provence) 1839 - 1906
the blue of the lavande fields
the yellow of the sunflowers
the ocher of the ocer-rocks